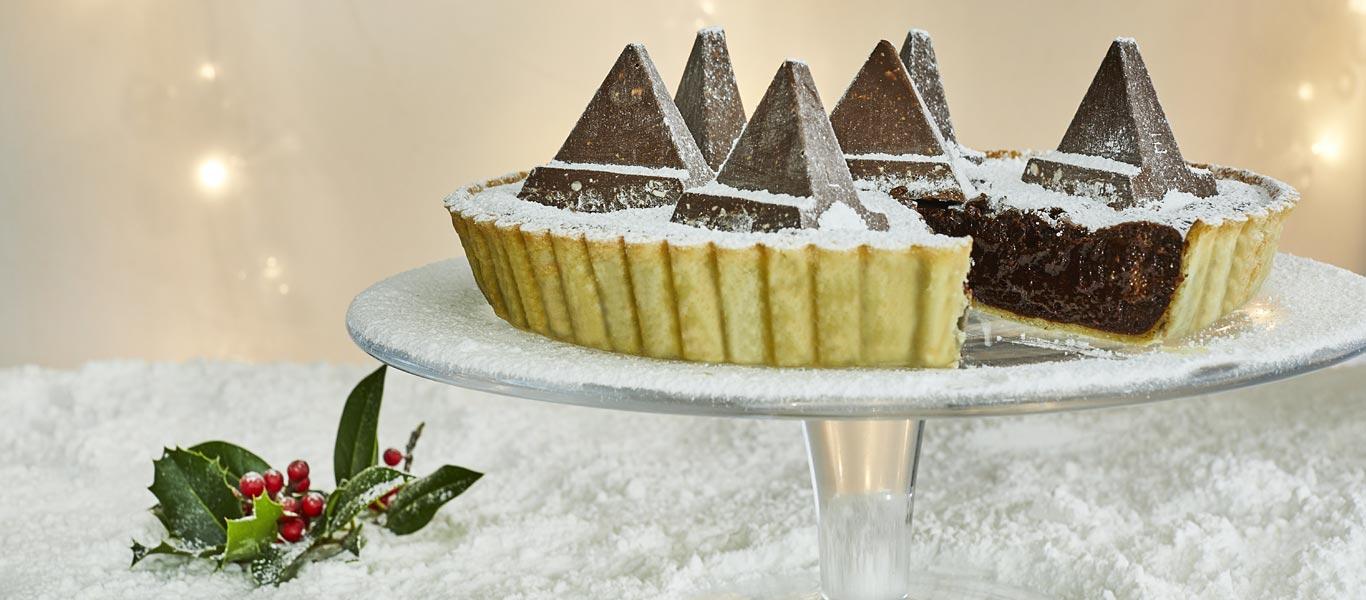 Ingredients
1 x 320g Jus Roll ready rolled shortcrust pastry
250g salted butter
250g 70% dark chocolate, roughly chopped
5 eggs
200g light soft brown sugar
150g plain flour
360g Toblerone milk chocolate
Nutrition
Calories column
Fat column
Saturates column
Sugars column
Salt column

Calories
661

per serving

33%

%GDA

Fat
40g

per serving

57%

%GDA

Saturates
24g

per serving

120%

%GDA

Sugars
46g

per serving

51%

%GDA

Salt
0.80g

per serving

13%

%GDA
Method
Preheat the oven to 200°C/fan 180°C/ gas mark 4 and lightly grease a 24cm wide, 4cm deep sided fluted tart tin.

Unroll the pastry and roll out so that it is just big enough to go all over the tart tin. Lift up and over into the tart tin – making sure to go into all the edges and up over the sides so that the pastry is hanging over the outside, then prick the base with a fork.

Make a large sheet of parchment paper and lay across the pastry so that it is covered. Fill with baking beans or plain flour – either will work as well.

Place in the oven to bake for 20 minutes.

While it bakes, make the brownie mix. Put the butter and chocolate into a bowl set over a pan of simmering water and heat until melted. Stir well then set aside.

Crack 4 of the eggs into a large bowl and add the sugar, then whisk with an electric whisk until really thick and light – they should double in volume at least.

Whisk in the melted chocolate then stir in the flour and mix gently until combined.

Roughly chop 4 of the Toblerone triangles and stir into the mixture.

By now the tart should be ready. Remove the parchment paper and beans/flour and discard, then return the tart to the oven for 5 minutes. Meanwhile, beat the last egg then brush all over the inside of the pastry case – this will keep the base from going soggy.

Turn the oven down to 180C/fan 160C/gas 4.

Pour the chocolate mixture into the case and return to the oven for 20-25 minutes until just set, but with a bit of a wobble to it still.

Meanwhile, break the Toblerone up into large chunks. Remove the tart from the oven and allow to cool for to room temperature before trimming the edges off of the pastry with a potato peeler. Remove from the tart tin and place on the serving platter.

Place the Toblerone into the top of the tart like little mountains – if you put it in too early, your mountains will melt! Dust with icing sugar before serving.