Preparation Time: 10 minutes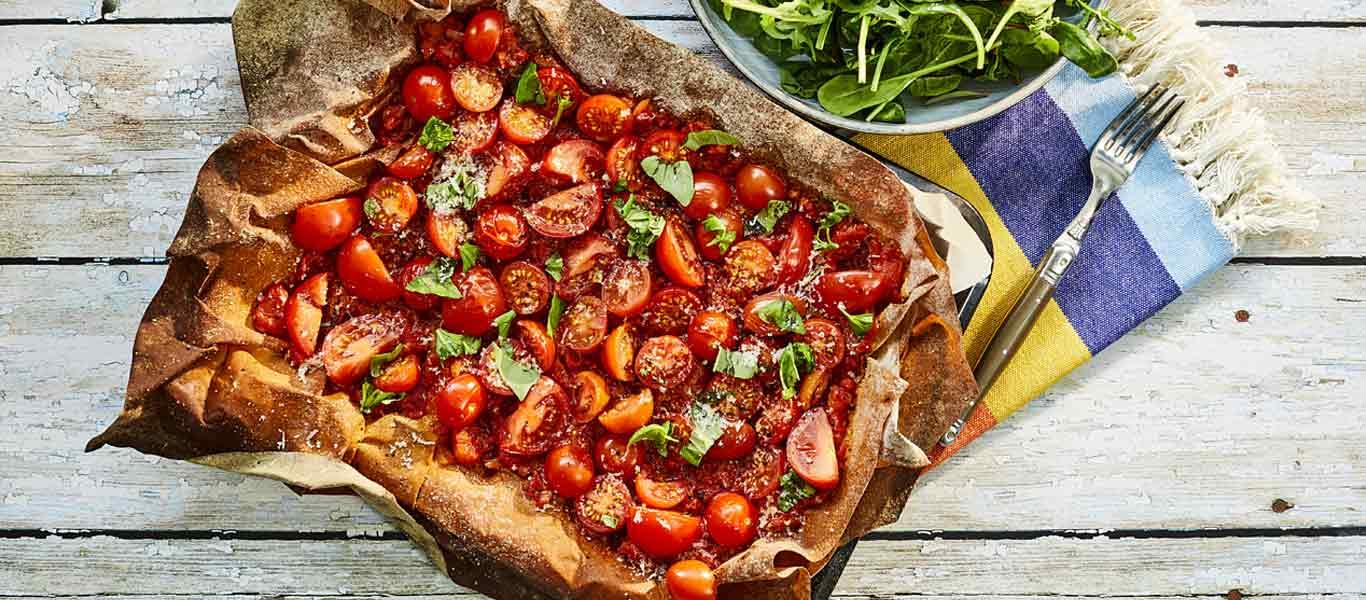 Ingredients
160g filo pastry (4 sheets)
1 sunflower/olive oil pump spray
2 tsp olive oil 1 onion, finely chopped
2 chillies, seeded and finely chopped
1 x 400g tin chopped tomatoes
1 tsp caster sugar Sea salt and freshly ground black pepper
400g mixed tomatoes, cut into chunks and halves
2 tbsp basil leaves, torn
1 bag mixed green salad
1 tbsp balsamic vinegar
3 tbsp extra virgin olive oil
2 tsp freshly grated parmesan, optional
Nutrition
Calories column
Fat column
Saturates column
Sugars column
Salt column

Calories
284

per serving

14%

%GDA

Fat
12g

per serving

17%

%GDA

Saturates
2g

per serving

10%

%GDA

Sugars
12g

per serving

13%

%GDA

Salt
0.40g

per serving

7%

%GDA
Method
Preheat the oven to 200°C, fan 180°C, gas mark 6 and line a medium shallow oven tray so that the parchment or greaseproof comes over the edges.

Unroll the stack of filo and spray with the oil, then season with salt and freshly ground black pepper. Press the sheet gently onto the tray so that the edges are just hanging out over the edge. Repeat with the remaining sheets so that you have a fully lined tray, 4 layers thick.

Place in the oven to bake for 8 minutes while you prepare the rest.

Heat a frying or sauté pan until medium hot. Add the olive oil and the onions and sweat for 2-3 minutes until just softened. Add the chillies and tinned tomatoes and bring to a simmer. Cook for 5 minutes over a high heat until thickened, then stir in the sugar, salt and black pepper.

Spoon the tomato sauce into the lined tray then top with the fresh tomatoes – you want random colours and sizes.

Place in the oven to bake for 8-10 minutes until the filo is cooked and the tomatoes tender.

Whisk the balsamic vinegar and olive oil together, season with salt and black pepper.

Serve hot, warm or room temperature with the basil leaves and parmesan, if using, scattered over the top and some green salad. Spoon the dressing over the leaves and tart.