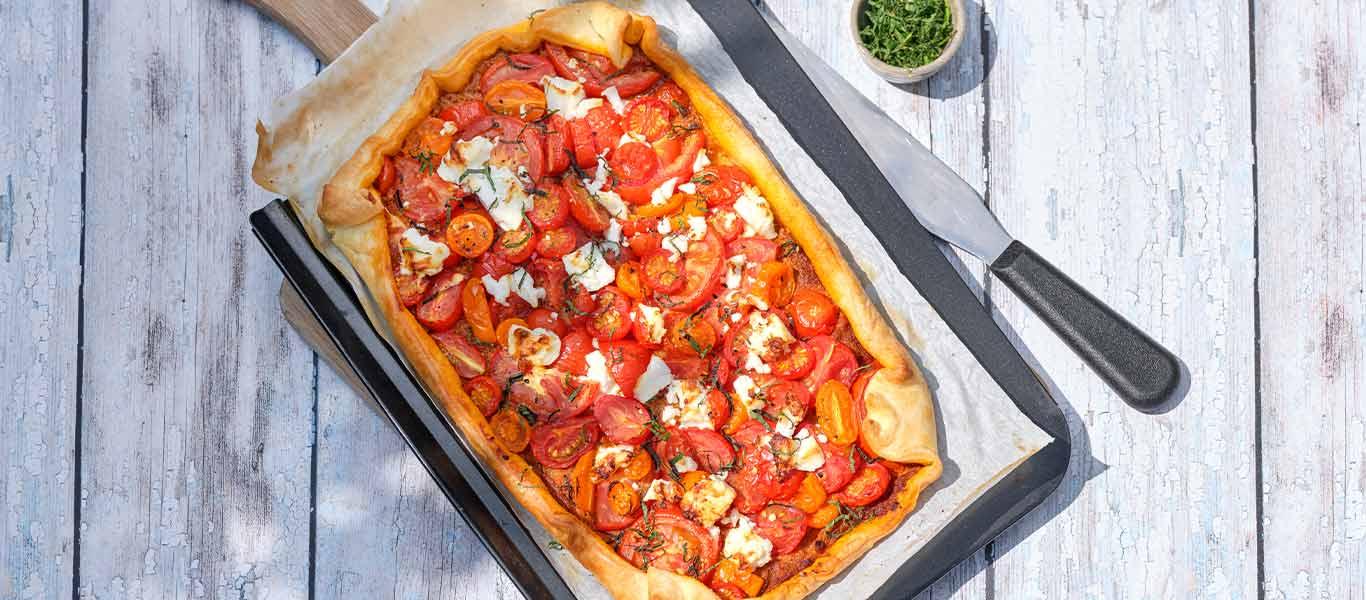 Ingredients
1 x 320g ready rolled shortcrust pastry
4 tbsp sundried tomato pesto
600g mixed tomatoes, sliced or cut into chunks
2 tbsp extra virgin olive oil
Sea salt and freshly ground black pepper
100g feta cheese, crumbled
1 tbsp roughly chopped mint leaves
Nutrition
Calories column
Fat column
Saturates column
Sugars column
Salt column

Calories
558

per serving

28%

%GDA

Fat
41g

per serving

59%

%GDA

Saturates
15g

per serving

75%

%GDA

Sugars
6g

per serving

7%

%GDA

Salt
1.50g

per serving

25%

%GDA
Method
Preheat the oven to 200°C, fan 180°, gas mark 6 and remove the pastry and tomatoes from the fridge while you wait for the oven to heat.

Roll the pastry out on it's parchment paper, straight onto a flat baking sheet.

Spread the sundried tomato pesto over the pastry, leaving a border of about 3cm around the edges.

Scatter the tomatoes over the pesto then scatter the feta over them. Fold the pastry up over the edge of the tomatoes, so they are contained but not covered.

Drizzle with a little of the olive oil and season with salt and black pepper, then brush the rest of the oil over the pastry edges.

Place in the oven to bake for 30 minutes until the pastry is golden and cooked through.

Scatter the mint over the top and serve warm or cold.