Serves : 4 as a Snack, 8 as a Main Course
Preparation Time: 10 minutes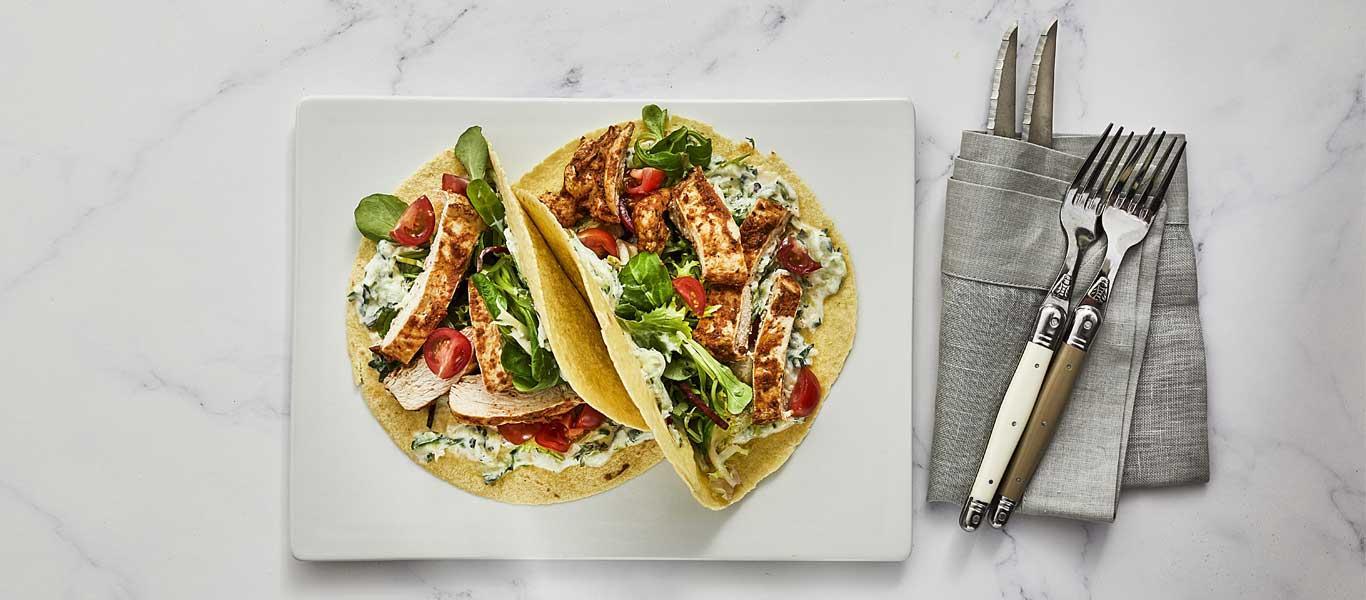 Ingredients
700g boneless skinless chicken fillets

50g

reduced fat sun dried tomato pesto

1 cucumber

2 garlic cloves, finely grated or crushed

1 tbsp finely shredded mint leaves

150g 0% Greek yoghurt

freshly ground black pepper

8 corn and wheat tortillas

100g bistro salad

160g cherry tomatoes, quartered 
Nutrition
Calories column
Fat column
Saturates column
Sugars column
Salt column

Calories
495

per serving

25%

%GDA

Fat
9g

per serving

13%

%GDA

Saturates
3g

per serving

15%

%GDA

Sugars
6g

per serving

7%

%GDA

Salt
1.70g

per serving

28%

%GDA
Method
Preheat the grill to medium.

Place the chicken between 2 pieces of cling film and bash with a rolling pin or base of a small pan, until 2cm thick all over.

Place in a bowl with the reduced fat sun dried tomato pesto and toss to coat. If you have time, cover and marinade in the fridge for up to 4 hours.

Place on a roasting tray in one layer. Place under the grill for 6 minutes then turn over and grill for another 6 minutes until golden brown and cooked through.

Meanwhile, coarsely grate the cucumber into a clean tea towel or j-cloth. Squeeze over a bowl to remove any excess juices and discard the juices. Tip the drained cucumber into the bowl and add the garlic, mint and Greek yoghurt. Season with black pepper then stir well to combine.

Heat the wraps according to packet instructions.

Lay the wraps onto serving plates. Spread ¾ of the cucumber yoghurt over the wrap then scatter the salad and cherry tomatoes over the top.

Cut the cooked chicken into thick slices and divide between the wraps then spoon over the last of the cucumber yoghurt.

Serve open, ready to wrap if desired.