Serves : 4 as a Starter, 2 as a Main Course
Preparation Time: 10 minutes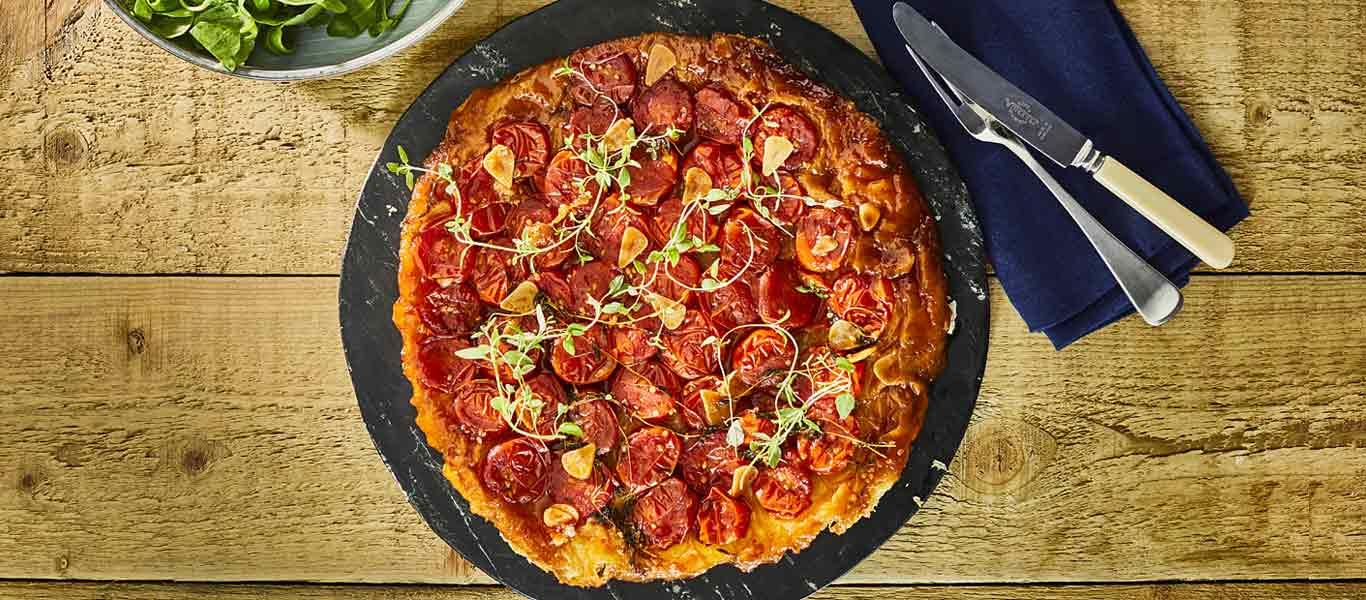 Ingredients
1 x 320g ready rolled shortcrust pastry (this is vegan)
40g caster sugar
25ml balsamic vinegar
8 sprigs thyme
2 garlic cloves, finely sliced
500g baby plum tomatoes
Sea salt and freshly ground black pepper
80g rocket
1 tsp white wine vinegar
1 tbsp olive oil
Nutrition
Calories column
Fat column
Saturates column
Sugars column
Salt column

Calories
467

per serving

23%

%GDA

Fat
28g

per serving

40%

%GDA

Saturates
10g

per serving

50%

%GDA

Sugars
16g

per serving

18%

%GDA

Salt
0.70g

per serving

12%

%GDA
Method
Preheat the oven to 200°C, fan 180°C, gas mark 4 and remove the shortcrust pastry from the fridge so that it can soften enough to unroll without cracking.

Heat a large ovenproof frying pan until hot. Add the caster sugar and cook for 2-3 minutes until it starts to caramelise.

When it's a deep golden brown colour, add the balsamic vinegar and continue to cook for another couple of minutes until it forms a thick dark liquid.

Scatter the thyme and garlic into the pan then remove from the heat.

Carefully tip the plum tomatoes into the caramel so that they cover the base of the frying pan.

Unroll the pastry over the top of the pan then trim off the excess pastry so you have a disc about 2cm bigger than the pan. Carefully tuck the pastry in around the sides of the pan so that the tomatoes are totally covered, then make little slashes with a knife a few times – this is to let the steam from the tomatoes out.

Transfer to the oven to bake for 25 minutes until the pastry is golden brown.

While the tart bakes, prepare the salad – pour the oil and balsamic into a bowl then season with black pepper. Toss the rocket in the dressing.

Remove from the oven and allow to cool for 10 minutes before placing a serving plate over the top. Carefully flip the pan over, using a cloth, so that the tart is pastry side down on the plate. Make sure that any juices are spooned back over the top of the tart.

Season with salt and black pepper then serve either hot or warm with the salad alongside.