Preparation Time: 5 minutes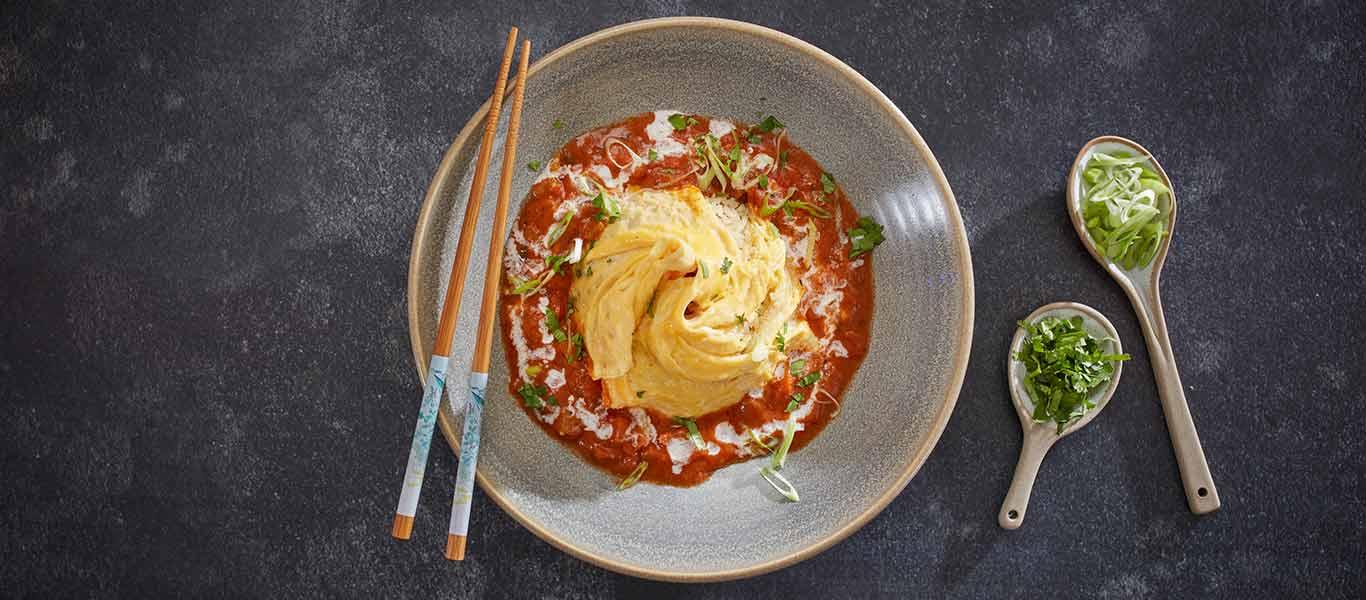 Ingredients
4 eggs 1 tbsp vegetable oil
1 x 250g microwave rice - Tilda Firecracker or Uncle Bens roasted garlic rice
210g Sharwood's rogan josh curry cooking sauce
2 tbsp coconut milk
1 spring onion, finely sliced
1 tbsp coriander, roughly chopped
Nutrition
Calories column
Fat column
Saturates column
Sugars column
Salt column

Calories
463

per serving

23%

%GDA

Fat
24g

per serving

34%

%GDA

Saturates
7g

per serving

35%

%GDA

Sugars
6g

per serving

7%

%GDA

Salt
1.80g

per serving

30%

%GDA
Method
Crack the eggs into a bowl and whisk until totally smooth – they need to be as smooth as possible with no lumps at all.

Pour the rogan josh sauce into a small pan and heat until just simmering. Turn the heat down and keep warm.

Heat the rice according to packet instructions and divide between 2 small bowls. Pack in tightly then turn upside down onto 2 serving plates.

Heat a frying pan until very hot. Add half the oil and pour half the eggs over the bottom of the pan in an even layer. Cook for 10 seconds, then place 2 thick chopsticks into the centre of the omelette, and gently twist in a clockwise direction.

Turn the pan 45° anti clockwise, still holding the chopsticks, and then twist the chopsticks again. You want to get the raw egg onto the surface of the pan each time you twist, to create a kind of fan shape. Cook for another minute or two until just set – the top of the egg will still be soft.

Slide over the top of the mound of rice, then spoon the hot curry sauce around the edge. Drizzle the coconut milk over the sauce, then scatter the spring onion and coriander over the top of the omelette and serve straightaway.