Preparation Time: 15 minutes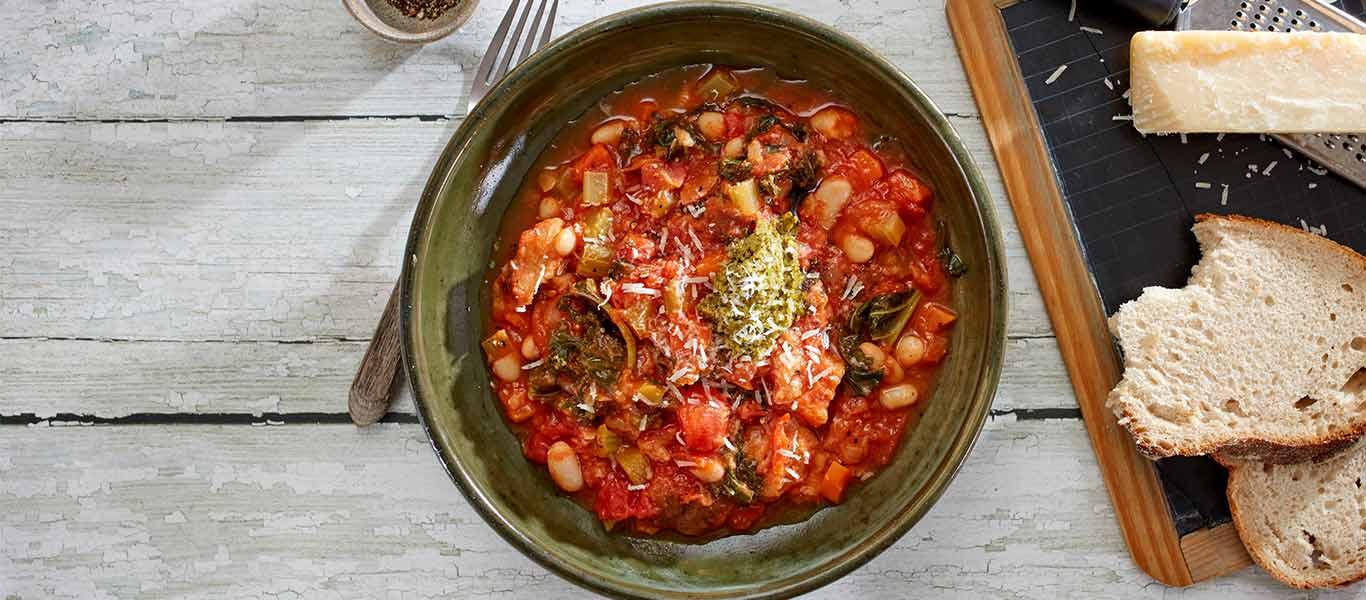 Ingredients
3 tbsp olive oil
1 onion, roughly chopped
2 carrots, peeled and roughly chopped
2 sticks celery, roughly chopped
4 garlic cloves, roughly chopped
3 x 400g chopped tinned tomatoes
50g chunk parmesan, rind removed and reserved
80g kale, roughly chopped
150g sourdough/country bread, torn into pieces
1 x 400g tinned cannellini beans, drained, rinsed and drained
Sea salt and freshly ground black pepper
4 tbsp basil pesto
Method
Heat a sauté pan until medium hot. Add the olive oil and onion, carrots and celery and stir well. Cover with a lid and cook over a gentle heat for 4-5 minutes until softened but not coloured.

Add the garlic and cook for another minute, then stir in the tinned tomatoes and bring to a simmer.

Add the rind of the parmesan in one piece, cover and simmer for 10 minutes – this will help flavour the soup. Remove it before serving.

Stir in the bread and return to a simmer then lay the kale on top. Cover with a lid and cook for 5 minutes – you want the bread to break down and thicken the soup, but the vegetables to still have a little bite.

Stir in the beans and return to the boil. Season with a little salt and plenty of black pepper.

Divide between serving bowls then top with a spoonful of pesto and some freshly grated parmesan.