Preparation Time: 10 minutes
Cooking Time: 8-10 minutes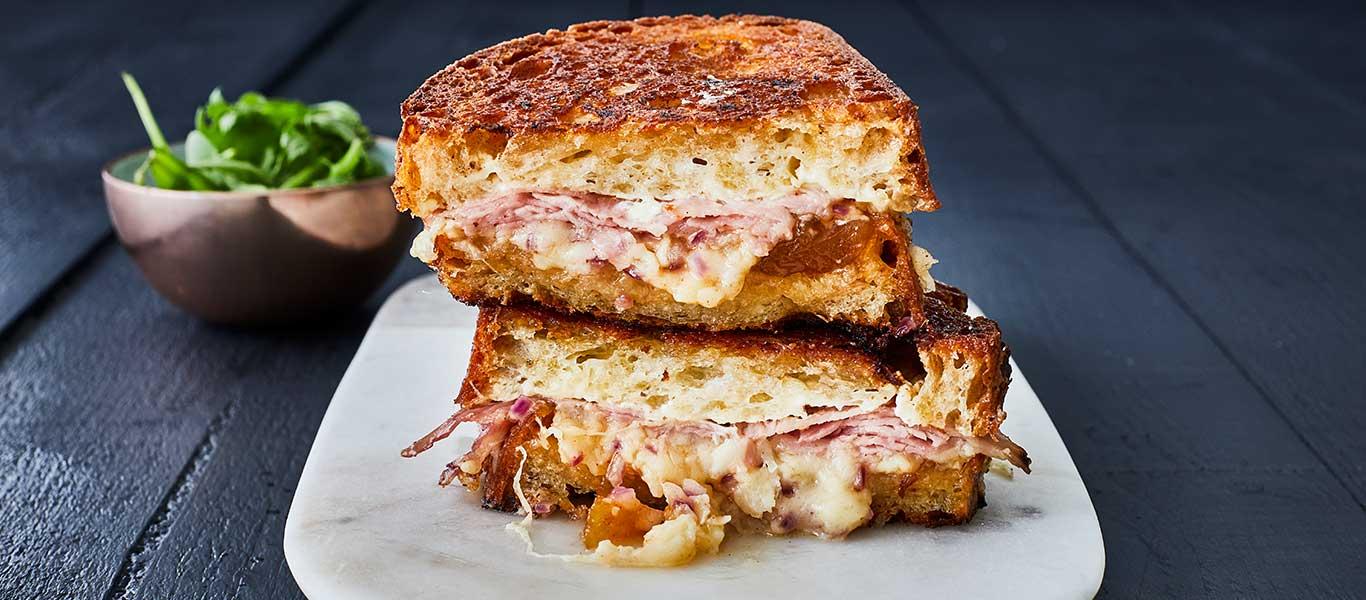 Ingredients
4 thick slices sourdough bread
60g butter, softened
50g mango chutney
30g cream cheese
60g thinly sliced ham
60g mature cheddar cheese, grated
40g gruyere cheese, grated
¼ red onion, finely diced
1 tbsp olive oil
Nutrition
Calories column
Fat column
Saturates column
Sugars column
Salt column

Calories
874

per serving

43%

%GDA

Fat
54g

per serving

77%

%GDA

Saturates
30g

per serving

150%

%GDA

Sugars
18g

per serving

20%

%GDA

Salt
4.00g

per serving

67%

%GDA
Method
Lay the bread onto a chopping board and spread both sides of all pieces with all but 2 teaspoons of the softened butter.

Spread the mango chutney over two pieces, and the cream cheese over the other two pieces.

Tip the grated cheeses and red onion into a bowl and mix together, then pile onto the cream cheese covered bread.

Lay the ham in ruffled layers on top of the cheese mixture then lay the other piece of bread, mango chutney side down, on top and squidge down gently.

Heat a frying pan until medium hot, add the remaining butter and the olive oil and when the butter has melted, add the sandwiches. Fry gently over a medium low heat for 3-4 minutes, pressing down gently with a fish slice, until just golden brown and the cheese has started to ooze.

Flip over and cook on the other side for another 3-4 minutes, pressing down again, until golden brown and the cheese is really oozing out of the sides.

Cut in half and serve straightaway.