Desserts Valentine's Day - Chocolate and Raspberry Pot
---
Preparation Time: 10 minutes
Cooking Time: 5 minutes, plus cooling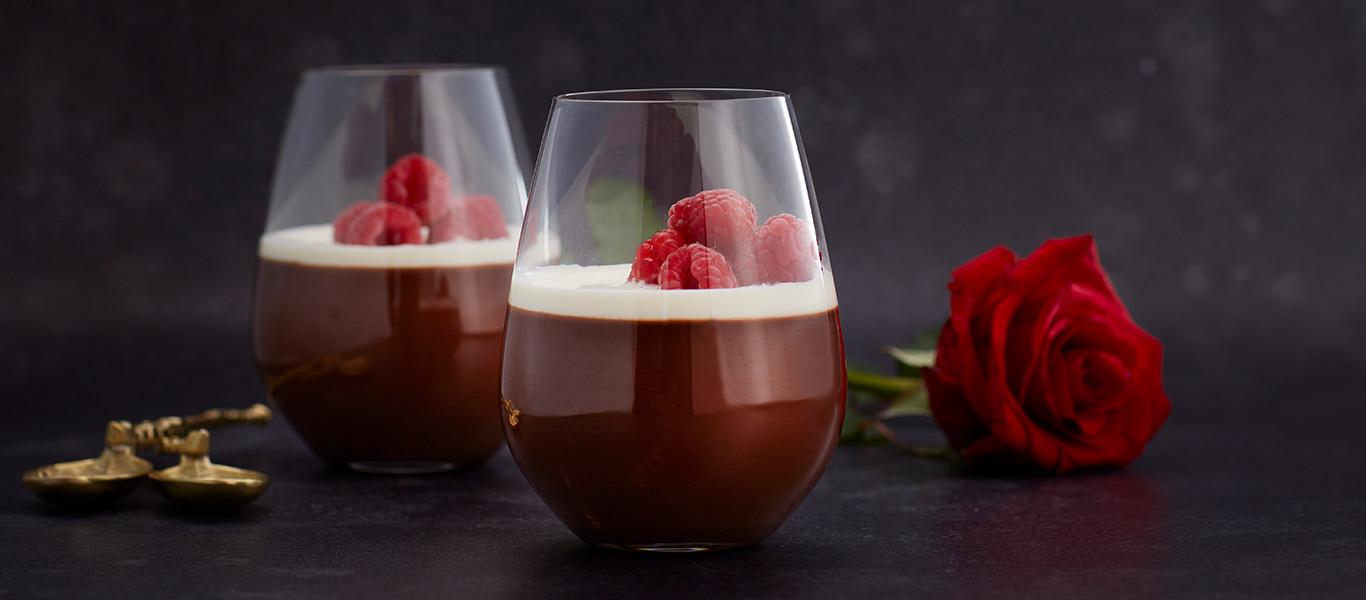 Ingredients
250ml double cream
50ml semi skimmed milk
2 tbsp caster sugar
2 tsp vanilla extract
1 tbsp extra virgin olive oil
3 tbsp orange liqueur, eg. Cointreau
200g dark chocolate, roughly chopped
80g raspberries
Nutrition
Calories column
Fat column
Saturates column
Sugars column
Salt column

Calories
673

per serving

34%

%GDA

Fat
51g

per serving

73%

%GDA

Saturates
30g

per serving

150%

%GDA

Sugars
42g

per serving

47%

%GDA

Salt
0.06g

per serving

1%

%GDA
Method
Pour 200ml of the cream, the milk and caster sugar into a saucepan. Add the vanilla extract, stir well and bring to a simmer.

Add the chocolate, olive oil and 2 tbsp of the orange liqueur and remove from the heat immediately. Allow to sit for a minute or two, then stir well until smooth – you don't want to overheat the cream.

Divide half the raspberries between serving cups/glasses then pour the chocolate mixture over the top and tap to settle any air bubbles.

Set aside to cool for 1 hour, then top with the remaining cream, raspberries and a drizzle of orange liqueur.

If you want to make in advance, store in the fridge for up to 3 days, but remove 1 hour before serving to just soften.