Desserts Valentine's Day - Sharing Chocolate and Ginger Heart
---
Preparation Time: 10 minutes
Cooking Time: 4 hours - overnight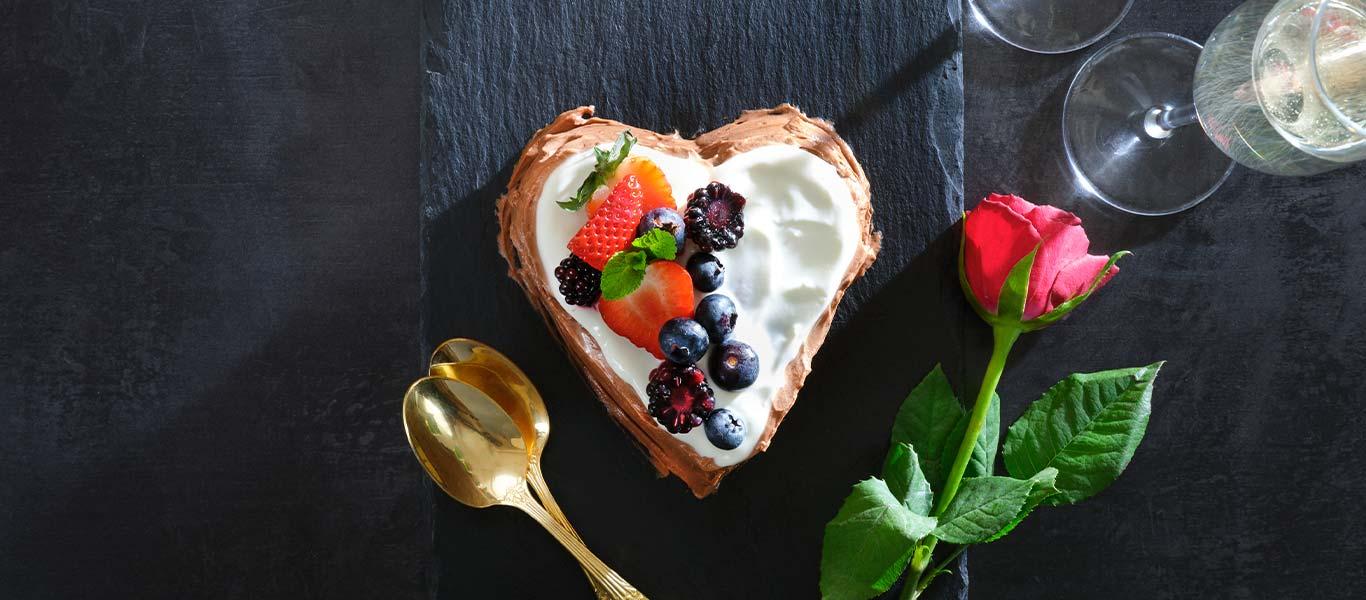 Ingredients
70g cream cheese
200ml double cream
35g icing sugar
1 tbsp vanilla extract
70g 70% dark chocolate, roughly chopped
9 ginger nut biscuits
1 tbsp sour cream
50g mixed berries
Few sprigs of Mint
Nutrition
Calories column
Fat column
Saturates column
Sugars column
Salt column

Calories
1057

per serving

53%

%GDA

Fat
79g

per serving

113%

%GDA

Saturates
48g

per serving

240%

%GDA

Sugars
56g

per serving

62%

%GDA

Salt
0.80g

per serving

13%

%GDA
Method
Tip the chocolate into a heatproof bowl and microwave on high for 1 minute until just melted. Stir until smooth then set aside.

Tip the cream cheese, double cream, icing sugar and vanilla into bowl and beat with an electric whisk until smooth and thickened.

Add the melted chocolate and mix until combined and thickened.

Take a cake plate and spoon a quarter of the chocolate cream over the top and spread out to make a small heart shape, about the size of 3 ginger nut biscuits.

Place 3 biscuits in the centre of the cream in a heart, just so they stick out over the edge of the cream slightly.

Add another quarter of the cream and spread over the biscuits.

Repeat with the layers of biscuits placing them directly above each other so you keep the heart shape, and chocolate cream until you finish on a layer of cream.

Spread the remaining cream around the edge to hide the biscuits.

Place in the fridge for at least 4 hours, preferably overnight or even for 24 hours so that the biscuits soften.

Spread the sour cream over the top then decorate with the berries and mint.

This will keep in the fridge for up to 3 days and the biscuits will soften as it sits there.