Preparation Time: 5 minutes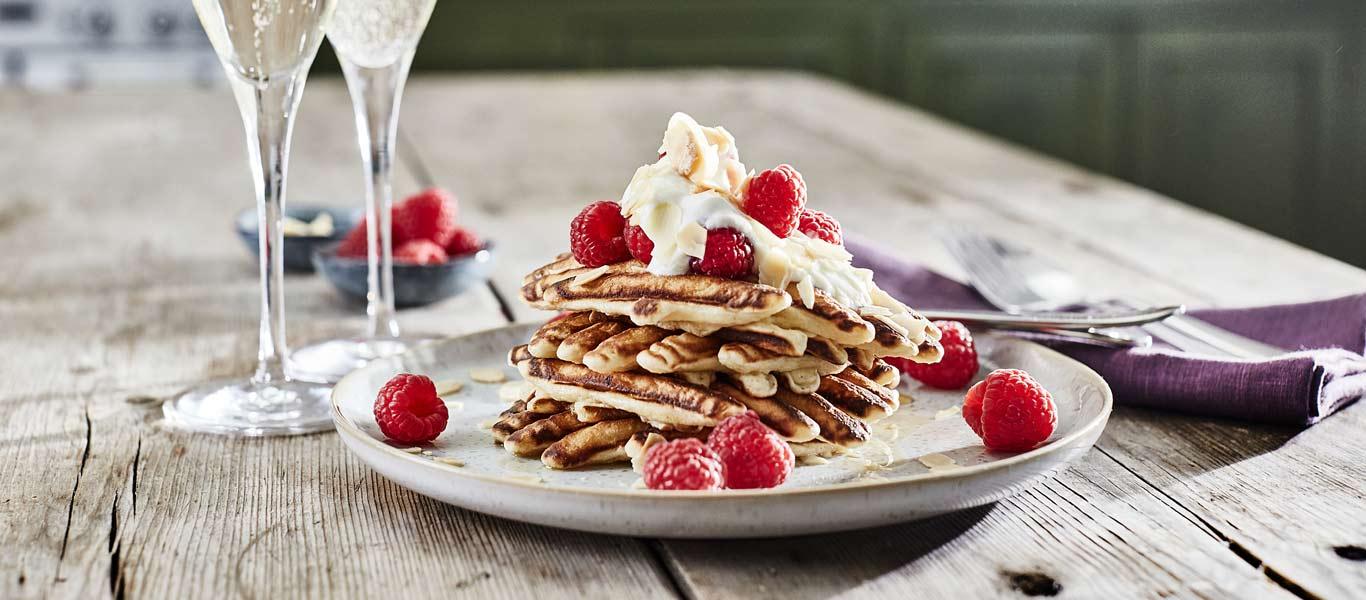 Ingredients
160g plain flour
1 tsp baking powder
2 tbsp caster sugar
150ml semi skimmed milk
2 eggs
2 tbsp sunflower oil
1½ tsp vanilla extract
2 tbsp 0% fat Greek yoghurt
2 tbsp maple syrup
120g raspberries
1 tbsp toasted flaked almonds
Nutrition
Calories column
Fat column
Saturates column
Sugars column
Salt column

Calories
700

per serving

35%

%GDA

Fat
23g

per serving

33%

%GDA

Saturates
5g

per serving

23%

%GDA

Sugars
34g

per serving

38%

%GDA

Salt
0.90g

per serving

15%

%GDA
Method
Tip the flour and sugar into a bowl and mix together. Make a well in the centre then add the eggs, milk, 5 tsp sunflower oil and 1 tsp vanilla extract, and working from the centre out, whisk until smooth.

Lightly oil the griddle pan with the last of the oil, then wipe off any excess. Heat the griddle pan until hot then pour a small spoonfuls of batter onto the pan. Turn the heat down slightly and fry until you see the bubbles start to rise – about 1-2 minutes. Flip over and cook for another minute until just golden brown and set. Repeat with the remaining batter, wiping the griddle pan if necessary.

Meanwhile, stir the remaining ½ tsp vanilla extract into the maple syrup and mix well.

Pile the pancakes onto serving plates, then top with the Greek yoghurt, berries and vanilla maple syrup and flaked almonds and serve straightaway.