Desserts Vegan Mango and Coconut Tartlets
---
Preparation Time: 10 minutes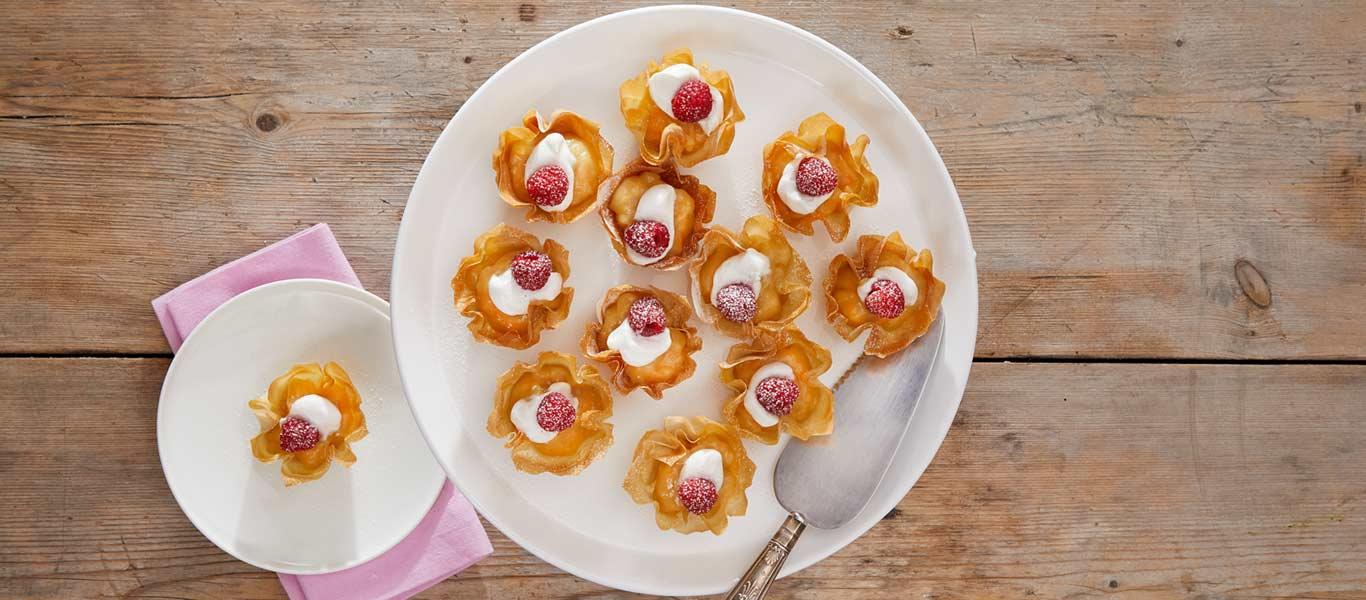 Ingredients
120ml apple and mango juice
2 lemons, zested and juiced
100g caster sugar
200g coconut milk
2 tbsp cornflour
3 sheets filo pastry
1 tbsp vegetable oil
50g coconut yoghurt
18 raspberries
Nutrition
Calories column
Fat column
Saturates column
Sugars column
Salt column

Calories
78

per serving

4%

%GDA

Fat
3g

per serving

4%

%GDA

Saturates
2g

per serving

10%

%GDA

Sugars
7g

per serving

8%

%GDA

Salt
0.01g

per serving

1%

%GDA
Method
Preheat the oven to 200°C/fan 180°C/ gas mark 6.

Tip the apple and mango juice, lemon zest, juice and sugar into a saucepan with the coconut milk and set over a medium heat. Bring to the boil then stir in the cornflour and simmer, stirring constantly for 2-3 minutes until thickened.

Remove and decant into a bowl, cover the surface with cling film and set aside to cool. When cool, transfer to the fridge until needed – this will keep for 7 days in a sealed container.

Meanwhile, layer the filo sheets on top of each other, spraying with oil in between. Cut the stack into 18 pieces – so you have 18 stacks of 3 sheets. Layer 3 up at a time, making sure that they are all slightly overlapping so you have a pointed star shape.

Place them all into the holes of 2 shallow 12 hole bun tins and press down lightly so the edges stick up. Place in the oven to bake for 8-10 minutes until golden brown and crispy.

Remove and allow to cool. These can be kept in an airtight container for 3-4 days.

Either pipe the mango curd into the tartlets, or use a spoon. Top with a tiny spoonful of coconut yoghurt and a raspberry before serving.