Preparation Time: 10 minutes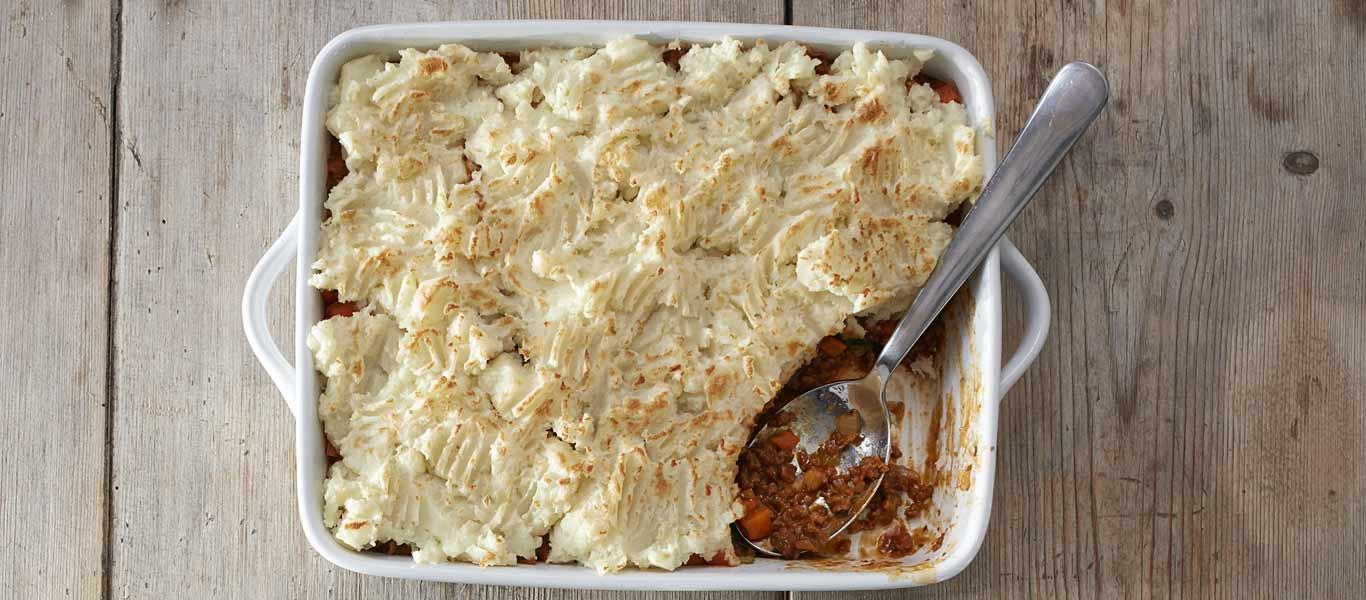 Ingredients
1 tsp olive oil
1 onion, roughly chopped
2 carrot, peeled and roughly chopped
1 tbsp roughly chopped thyme leaves
2 tbsp tomato puree
400g vegetarian mince
1 tbsp plain flour
1 reduced salt vegetable stock cube
2 tbsp reduced sugar and salt brown sauce
Freshly ground black pepper
Nutmeg, freshly ground, optional
125g baby spinach leaves
600g ready made mash potatoes
320g frozen peas
300ml vegetable gravy
Nutrition
Calories column
Fat column
Saturates column
Sugars column
Salt column

Calories
261

per serving

13%

%GDA

Fat
6g

per serving

9%

%GDA

Saturates
1g

per serving

5%

%GDA

Sugars
7g

per serving

8%

%GDA

Salt
1.10g

per serving

18%

%GDA
Method
Preheat the grill to high and set a kettle to boil.

Heat a frying pan until medium hot. Add the oil, onion and carrot and fry for 3-4 minutes until just softening.

Stir in the thyme and cook for 1 minute, then add the tomato puree and cook for another minute.

Add the vegetarian mince and stir through then add the flour and cook for 2 minutes.

Add the stock cube and 500ml water and bring to the boil. Turn the heat down and simmer for 5-10 minutes until just thickened.

Meanwhile, heat the mash in the microwave according to packet instructions.

Stir the brown sauce, plenty of black pepper and nutmeg then add the spinachand cover with a lid. Steam cook for a couple of minutes, then stir the wilted spinach into the mince.

Tip into a medium ovenproof baking dish. Spoon the hot mash over the top, then place under the grill for 5 minutes until golden brown and bubbling.

While the pie grills, tip the boiling water into a saucepan, add the peas and return to the boil. Simmer for 2 minutes then drain. Make up the vegetarian gravy.

Divide the pie between serving plates and pile the peas alongside then pour the gravy over the top.