Preparation Time: 10 minutes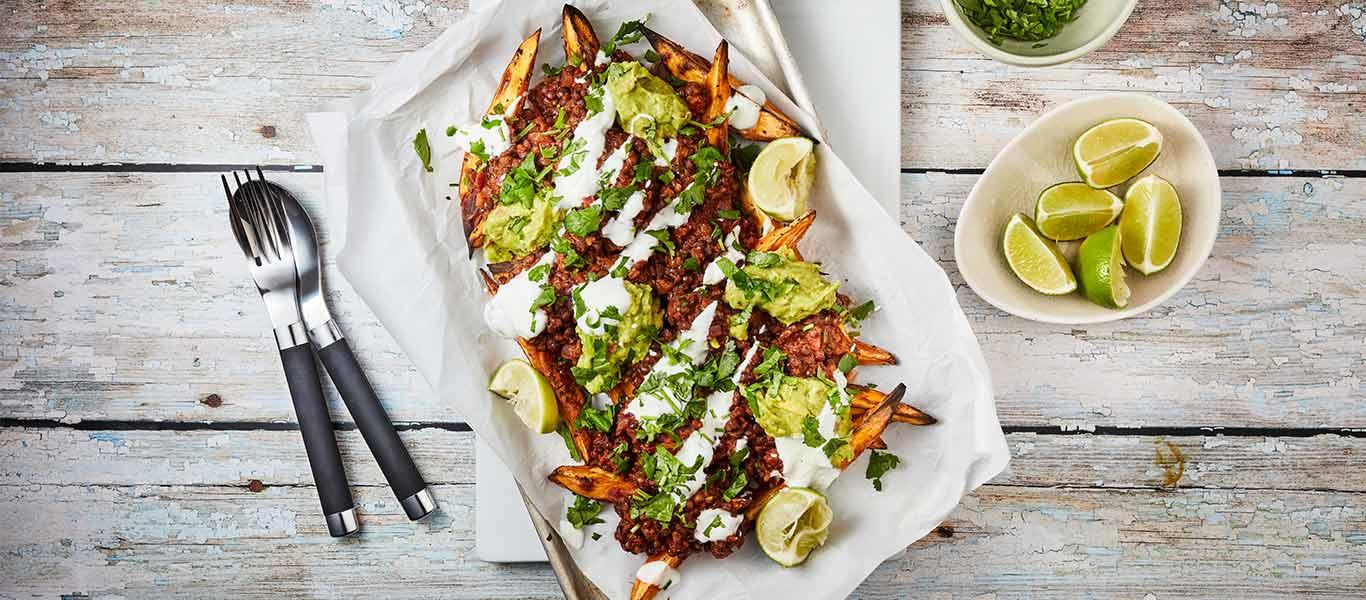 Ingredients
1 tbsp vegetable oil
4 large/ 6 small sweet potatoes, scrubbed and cut into wedges
Sea salt and freshly ground black pepper
1 tsp dried oregano or thyme
1 red onion, finely chopped
2 garlic cloves, crushed or finely grated
1 tbsp tomato puree
2 tsp ground cumin
2 tsp ground coriander
½ tsp ground cinnamon
2 x 250g ready to eat puy lentils
1 x 350g Loyd Grossman tomato and chilli pasta sauce
2 tbsp roughly chopped coriander
100g guacamole
100g natural yoghurt
2 limes, cut into quarters
Method
Preheat the oven to 210°C, fan 190°C, gas mark 7.

Tip the sweet potatoes onto roasting tray and drizzle with 2 tsp of the oil, salt and black pepper, ½ tsp dried thyme and toss to coat.

Place in the oven to roast for 20-25 minutes until tender and golden.

Meanwhile, heat a sauté pan until hot. Add the remaining oil and onion and cook for 2-3 minutes until just softened.

Add the garlic, tomato puree and spices and cook for 1-2 minutes then stir in the lentils.

Add the tomato and chilli sauce. Half fill the jar with water, swill around and add to the pan. Bring to the boil, then reduce the heat, cover and simmer for 5-8 minutes until hot through. Season with salt and black pepper then stir in half the coriander.

Divide the sweet potato wedges between serving plates. Spoon the chilli over the top, add dollops of guacamole and yoghurt and finish with the last of the coriander.

Squeeze the limes over the top and serve straightaway.