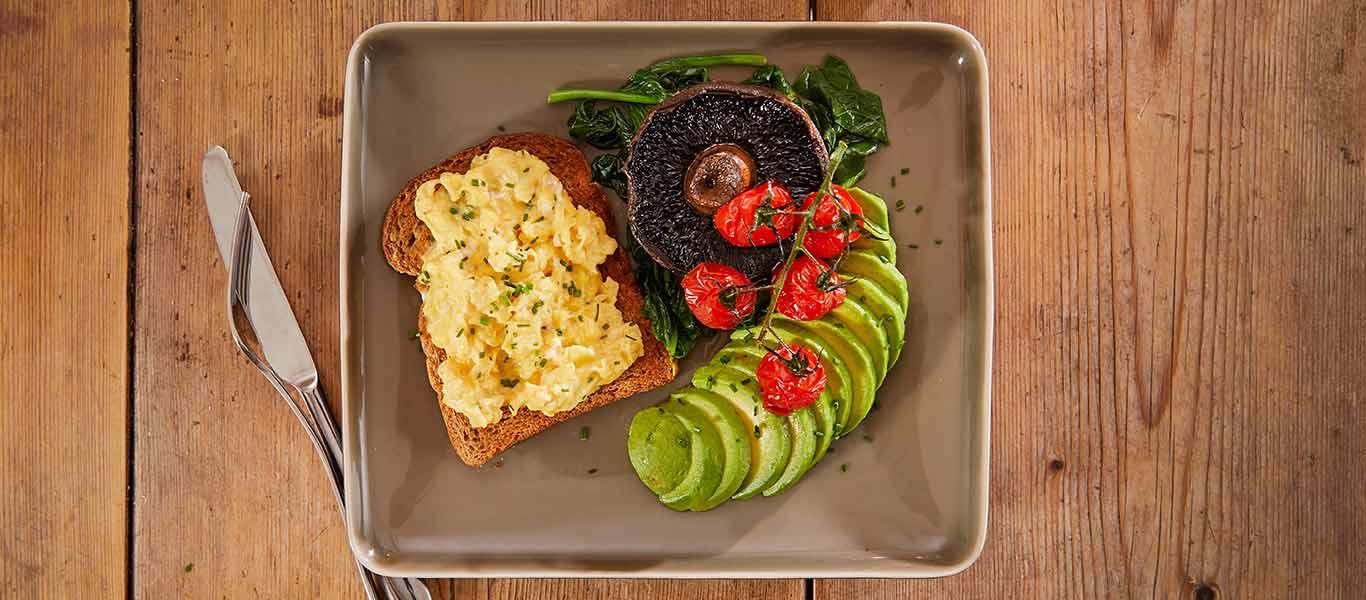 Ingredients
2 Portobello mushrooms, stalk removed
10 cherry tomatoes on the vine
1 tsp olive oil
Sea salt and freshly ground black pepper
2 slices wholemeal bread
80g baby spinach leaves
4 eggs
1 tbsp finely chopped chives
1 avocado, stoned and sliced
Method
Preheat the oven to 200°C, fan 180°C, gas mark 6.

Lay the mushrooms onto a roasting tray, gill side up with the cherry tomatoes alongside. Drizzle both with a little olive oil then season with salt and black pepper. Place in the oven to roast for 10-15 minutes until the mushroom is tender and the tomatoes lightly charred.

Toast the bread.

Heat a frying pan until hot, add the remaining oil and spinach and cook for 1-2 minutes until just wilted.

Finally, crack the eggs into a small bowl, season with salt and black pepper then stir in the chives. Add to the hot pan and set over a medium heat and cook until just starting to thicken, stirring frequently. Remove from the heat and keep stirring, to finish cooking in the residual heat of the pan – this means that they won't over cook.

Divide the between serving plates, add the avocado and remaining chives and serve straight away.