Preparation Time: 5 minutes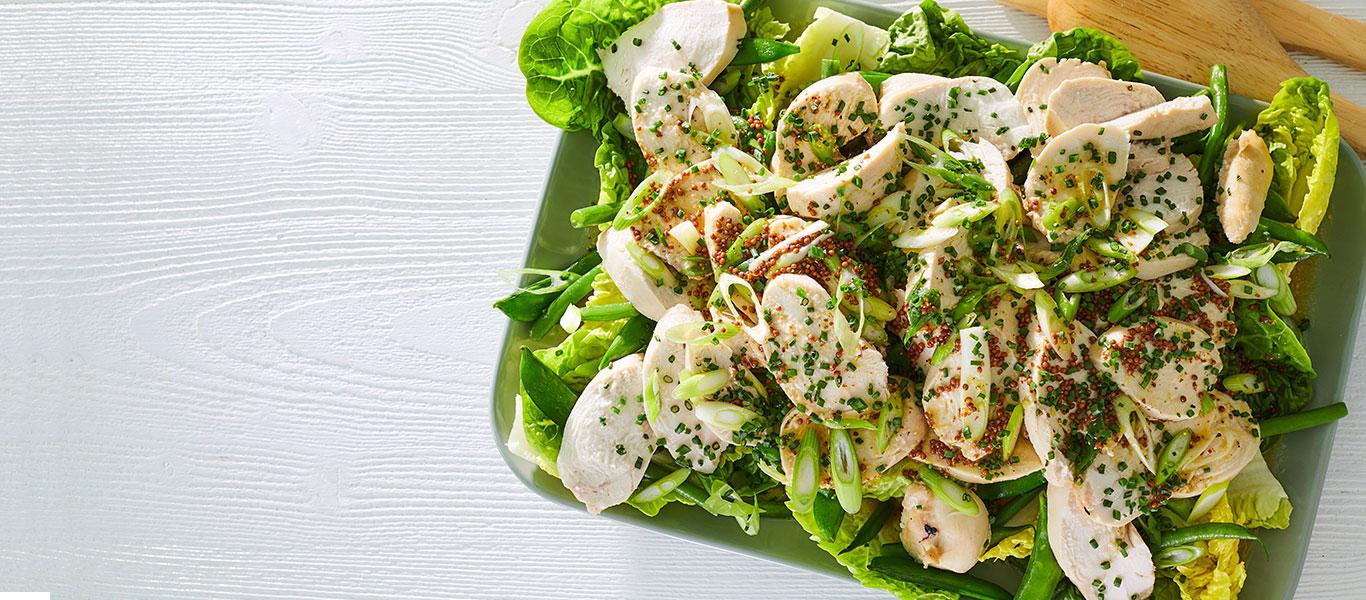 Ingredients
500ml chicken stock

4 medium boneless skinless chicken fillets

160g green beans, trimmed

160g sugar snap peas

2 tbsp grainy mustard

1 tbsp white wine vinegar

3 tbsp extra virgin olive oil

2 heads little gem lettuce, leaves separated

4 spring onions, sliced thickly

2 tbsp finely chopped chives
Method
Heat the chicken stock in a medium saucepan until just simmering, then add the chicken fillets and return to a simmer. Poach for 15 minutes until the chicken is cooked through, turning over half way through if the chicken is above the line of the stock. Lift the chicken breasts out and set onto a board.

Add the green beans to the chicken stock and cook for 2 minutes then add the sugar snap peas and cook both for another 2 minutes until they are both just tender. Lift out and place into a bowl – reserving the chicken stock.

By now the stock should have reduced by half. Whisk in the grainy mustard, white wine vinegar and olive oil – the mixture will thicken slightly.

Layer the little gem leaves onto a serving platter or plate, then layer the cooked green beans and sugar snaps over the top.

Scatter half the spring onion over, then add the chicken, remaining spring onions and the mustard dressing.

Scatter the chives over the top and serve straightaway.