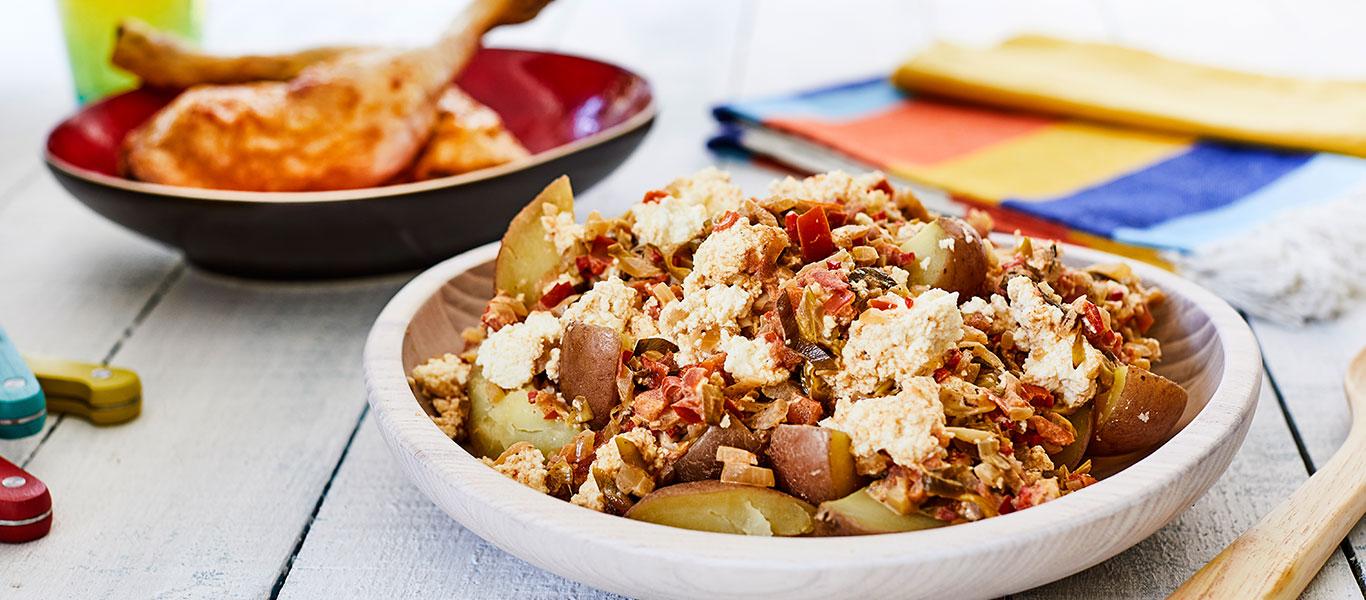 Ingredients
900ml semi skimmed milk

1 tsp fine sea salt

3 tbsp white wine vinegar

4 chicken legs

600g red potatoes, scrubbed and cut into wedges

1 tsp olive oil

1 onion, finely chopped

5 spring onions, finely chopped

1 red chilli, seeded and finely chopped

1 tsp ground cumin

4 large tomatoes, seeded and finely chopped

75ml double cream
Nutrition
Calories column
Fat column
Saturates column
Sugars column
Salt column

Calories
575

per serving

29%

%GDA

Fat
24g

per serving

34%

%GDA

Saturates
12g

per serving

58%

%GDA

Sugars
18g

per serving

19%

%GDA

Salt
1.90g

per serving

32%

%GDA
Method
Preheat the oven to 200°C/fan 180°C/gas 6.

Pour the milk and salt into a medium saucepan and bring to the boil. When boiling, remove from the heat and add the vinegar without stirring.

Set aside for 5 minutes without stirring - you will see that it starts to curdle, don't fear – this is what's meant to happen, and do not stir it around as this will break up the cheese.

Line a sieve or colander with a clean piece of kitchen paper or j cloth and set it over a bowl, then tip the warm mixture into the sieve. Leave to drain whilst you make the rest of the dish – this is queso fresco, a very quick simple soft cheese.

Heat an ovenproof frying pan until hot, add the chicken legs, skin side down, and fry for a couple of minutes on each side until just golden. Place into the oven to roast for 25 minutes until golden brown and cooked through.

Place the potatoes into a medium saucepan and cover with cold water. Bring to the boil then turn down and simmer for 15 minutes until tender. Drain and return to the saucepan.

While the potatoes cook, make the sauce. Heat a sauté pan until medium hot, add the oil and onion and cook for 2-3 minutes until just softening.

Add the spring onions, chilli and ground cumin and cook for another minute before adding the chopped tomatoes. Bring to a simmer and cook for 2 minutes then add 100ml cold water, cover and cook for 5-8 minutes until the tomatoes have broken down and formed a sauce.

Stir in the double cream and bring to a simmer then season with salt and black pepper.

Stir the queso fresco into the sauce and heat through – you don't want it to be smooth, you want it to remain with visible pieces of cheese.

Tip the potatoes into a serving dish, spoon the sauce over the top and serve straightaway with the roasted chicken.