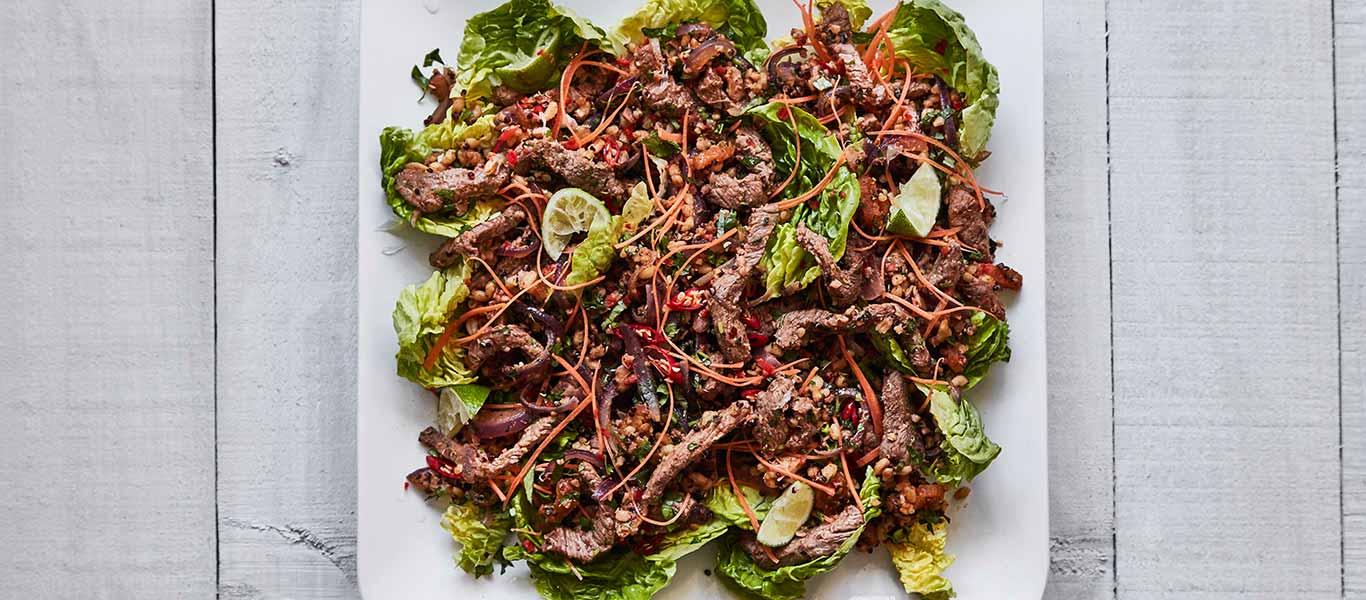 Ingredients
1 tbsp harrisa paste
300g stir fry beef strips
2 tsp rapeseed oil
1 red onion, finely sliced
250g cooked mixed grains - quinoa, lentils and wheat berries
50g soft dried apricots, finely sliced
2 tbsp mint leaves, roughly chopped
2 tbsp coriander leaves, roughly chopped
2 limes, juiced
Sea salt and freshly ground black pepper
2 heads little gem lettuce, leaves separated
½ carrot, peeled and very finely sliced
1 red chilli or bird´s eye chilli, finely sliced
Method
Tip the harrisa paste into a bowl with the sliced beef and mix well, so that the beef is coated in harrisa. Set aside to marinate while you prepare the rest of the ingredients.

Heat a wok or large frying pan until hot, add the rapeseed oil and onion and stir fry for a couple of minutes until softened but not too coloured.

Add the beef and stir fry for another 1-2 minutes until browned but not cooked through. Add the mixed grains and apricots and stir fry for another 2 minutes until hot through.

Stir in the herbs and lime juice and season to taste.

Lay the little gem leaves into a large platter and spoon the mixture over the top of the leaves. Scatter the carrot over the top then finish with the chilli.