Preparation Time: 10 minutes
Cooking Time: 45-60 minutes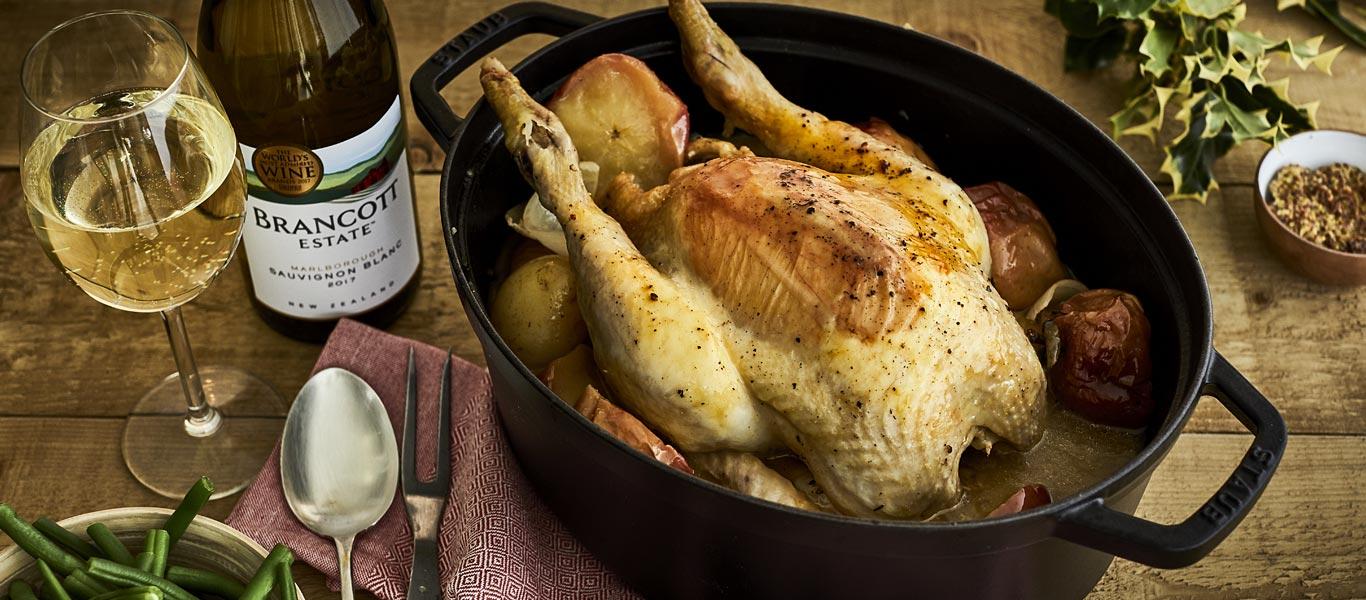 Ingredients
1.1kg whole chicken
sea salt and freshly ground black pepper
1 tbsp olive oil
25g butter
2 onions, cut into wedges
½ small bunch thyme
2 tbsp plain flour
500g baby potatoes, scrubbed
500ml Brancott Estate Sauvignon Blanc wine
1 chicken stock pot
4 Royal Gala apples, halved
320g green beans
2 tbsp grainy mustard, optional
Nutrition
Calories column
Fat column
Saturates column
Sugars column
Salt column

Calories
643

per serving

32%

%GDA

Fat
16g

per serving

23%

%GDA

Saturates
6g

per serving

30%

%GDA

Sugars
26g

per serving

29%

%GDA

Salt
2.40g

per serving

40%

%GDA
Method
Preheat the oven to 200°C/fan 180°C/gas 6.

Take a large casserole dish big enough to fit the chicken and place over a medium heat until hot. Add the oil and butter and when the butter has melted, add the onions and thyme and cook for 5 minutes until just coloured.

Sprinkle over the flour and stir well then add the potatoes and season well with salt and black pepper. Pour over the white wine and bring to the boil, then add the stock pot and 400ml water and return to the boil

Lay the chicken on top and place the apples around the chicken. Season the chicken with salt and black pepper then set aside.

Cover with a lid or foil and place into the oven to roast for 45 minutes. Remove the lid and cook for another 15 minutes, until the skin is golden and the chicken is cooked through.

To check that the chicken is cooked, insert a knife or skewer into the fattest part of the thigh. If the juices run clear, the chicken is cooked through. If any blood comes out, return it to the oven for another 5–10 minutes, then check again.

While the chicken cooks, bring a pan of salted water to the boil, add the green beans and cook for 3-4 minutes until just tender. Drain and return to the pan and season with black pepper.

Serve the chicken in the casserole dish at the table with the green beans alongside.

If you fancy a little added flavour, stir in 2 tablespoons of grainy mustard at the end of the cooking time.